Rome, 10 February 2023
Impact of the high intensity seismic activity occurred on February the 6th on heritage in Turkey.
Statement from verified sources.
Data available from Syria are still too fragmentary and sometimes overlapping. Information on the heritage hit by the earthquake in Syria will be disseminated as soon as data will be available from verified sources.
Full statement in Turkish language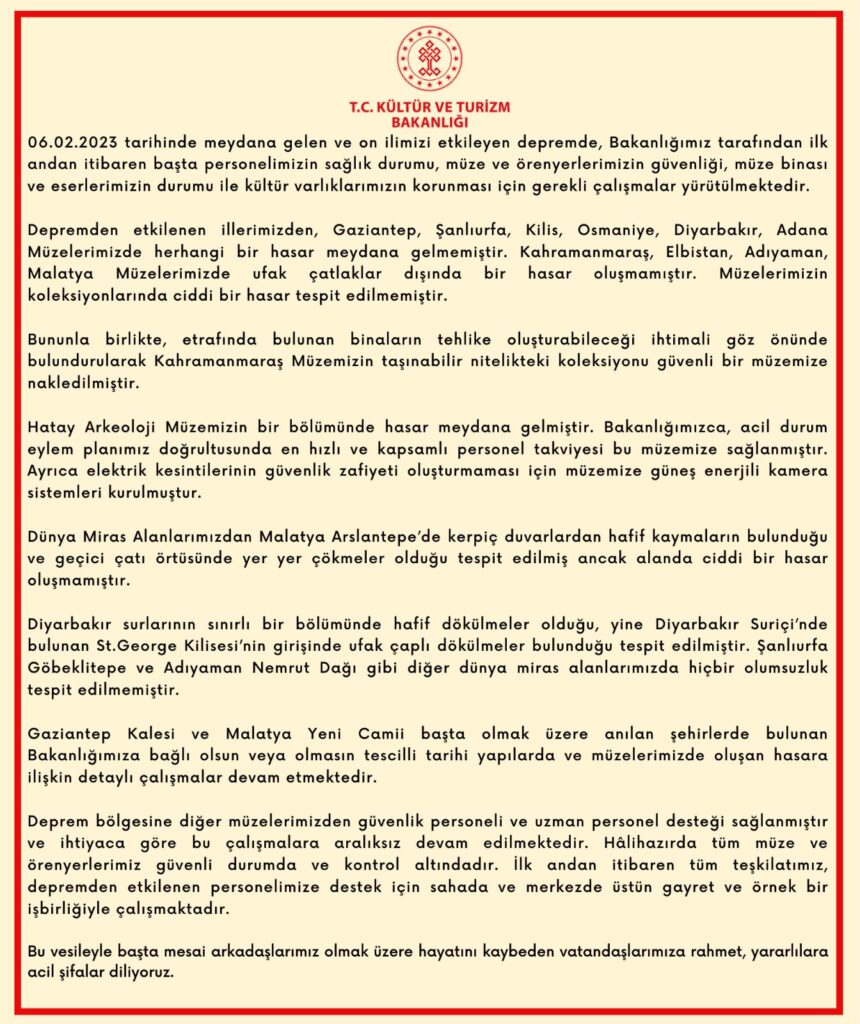 Full statement in English language
Statement by the Ministry of Culture and Tourism of the Republic of Turkey on Our Museums and World Heritage Sites in the Provinces Affected by the Earthquake
NOTE: February 09, 2023 – Informal Translation from Turkish into English by KUM1D (FOCUH) (*). In case of doubt, the above original Turkish text shall prevail.
Ministry of Culture and Tourism of the Republic of Turkey
In the earthquake that shook on February 06, 2023 and affected ten cities, our Ministry has been carrying out necessary duties from the first moment on the health status of our personnel, the safety of our museums and archaeological sites, the condition of our museum buildings and artifacts, and the protection of our cultural assets.
There was no damage to our museums in Gaziantep, Şanliurfa, Kilis, Osmaniye, Diyarbakir and Adana, which were affected by the earthquake. In Kahramanmaraş Elbistan, Adiyaman and Malatya museums, no damage has occurred except for minor cracks, and no serious damage was detected in museum collections.
However, considering the possibility that the buildings around it may pose a danger, movable collection of Kahramanmaraş Museum have been evacuated to a safe museum.
A section of Hatay Archaeology Museum was damaged. Our Ministry provided the fastest and most comprehensive personnel reinforcement to this museum in line with our emergency action. In addition, solar-powered camera systems have been installed in our museum so that power cuts do not cause any security weakness.
In Malatya Aslantepe, one of the World Heritage Sites, it was observed that there were slight slips from the mud-brick walls and some collapses in the temporary roof cover, but there was no serious damage in the area.
It has been observed that there are light spills in a limited part of Diyarbakir Walls, and small spills at the entrance of St. George's Church, which is also located in Diyarbakir Suriçi. No unfavourableness has been detected in other world heritage sites such as, Şanliurfa Göbeklitepe and Adiyaman Mount Nemrut.
Detailed investigations on the damage to registered historical buildings and museums in our above-mentioned cities, especially Gaziantep Fortress and Malatya Yeni Mosque, are continuing, whether they are affiliated with our Ministry or not.
Security personnel and experts' support from our other museums has been provided to the earthquake area, and these duties continue uninterruptedly according to the needs. Currently, all our museums and ruins are in safe condition and under control. From the first moment, our entire organization has been working with great effort and exemplary cooperation in the field and in the crises center to support our personnel affected by the earthquake.
For this reason, we wish mercy upon our citizens, especially our colleagues, who lost their lives and a quick recovery to the injured.
(*) http://kumid.net